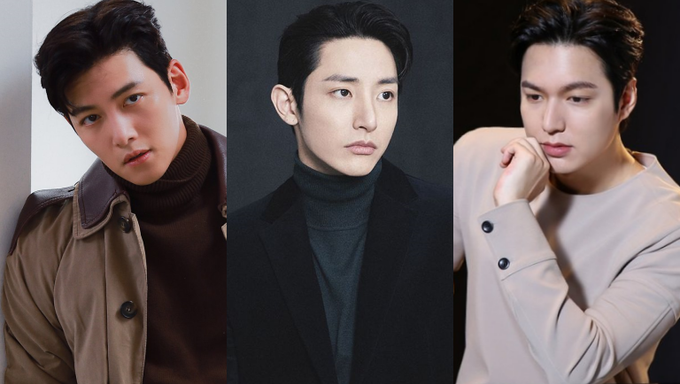 The swept-back hairstyle is undoubtedly a fan favorite hairstyle on K-Drama actors. Perfectly bringing to full frame their gorgeous visuals, this hairstyle when done by actors, has the singular power to make anyone weak in the knees and make hearts beat faster.
We took a fun poll on the 16th of August asking our readers to vote for the actor who looks the most attractive in a swept-back hairstyle. A lot of votes were cast and we thank you for your active participation.
The results are in! Here are the top 3 K-Drama actors with the most attractive swept-back hairstyle according to Kpopmap readers based on the data retrieved on the 4th of September 2022.
For over a decade now, the famous actor has been a high ranker in the hearts of many fans not just for his impressive acting talents but also for his outstanding visuals as well. In this hairstyle, his looks are even more amplified giving him an even more alluring and charismatic presence that many no doubt find very attractive and appealing. With 6,995 votes, he ranks 1st on this poll.
Lee SooHyuk in any style is simply so powerful. His visuals are ethereal and perhaps there is no better descriptor for it. He looks attractive in any hairstyle but there is such an aura he exudes in the swept-back hairstyle that can be described as captivating and intoxicating. A tall drink of water, he is one many won't get tired of staring at. With 6,853 votes, he ranks 2nd on this poll.
The famous Hallyu actor is one who is often regarded as the standard for many things, ranging from looks to personality and talents. In any hairstyle, his looks are always top tier but there is definitely something extra majestic about him in swept-back hairstyle. In this look, he gives off the charismatic and confident aura that one might attribute to a high-powered CEO of a tech company or a crown prince. With 1,226 votes, he ranks 3rd on this poll.
Find out all the rankings below.
You can still vote for your favorite actor as the vote is always open.
Which of these actors looks the most attractive in a swept-back hairstyle? Let us know in the comments section below.