Russia Blacklists Alexei Navalny's Network as Terror Organization, Cutting Off Bank Accounts
The political network of jailed Kremlin-critic Alexei Navalny was blacklisted as a "terrorist-linked" organization by Russian authorities Friday, marking the latest move to stifle the opposition movement and effectively shut down its regional offices.
Russia's state financial watchdog Rosfinmonitoring on Friday listed "Navalny Networks" on its database of groups with links to terrorist activities, joining Al-Qaeda, the Taliban and the Islamic State militant group. The new designation means that Russian authorities can now cut off the network's bank accounts, The Moscow Times reported.
On top of that, prosecutors in Moscow are seeking to have Navalny's Anti-Corruption Foundation, labeled as an "extremist" organization, which would fully ban the network's 50 regional headquarters from operating, and put members and supporters at risk of criminal prosecution.
Earlier this week, a Moscow court ordered Navalny's organizations to halt all public activity pending a final ruling in that case, which is expected to take place next month. In light of that development, Navalny's associates moved to formally disband the network on Thursday, citing a growing impossibility to work.
"Alas, we must be honest: It's impossible to work under these conditions," Navalny's senior aide Leonid Volkov said in a Thursday announcement, according to The New York Times. "We are officially disbanding the network of Navalny offices."
Volkov added that disbanding the network will not affect the team's goal to unseat pro-Vladimir Putin politicians in upcoming parliamentary elections, but said it will likely transform the movement into independent political entities, The Moscow Times reported.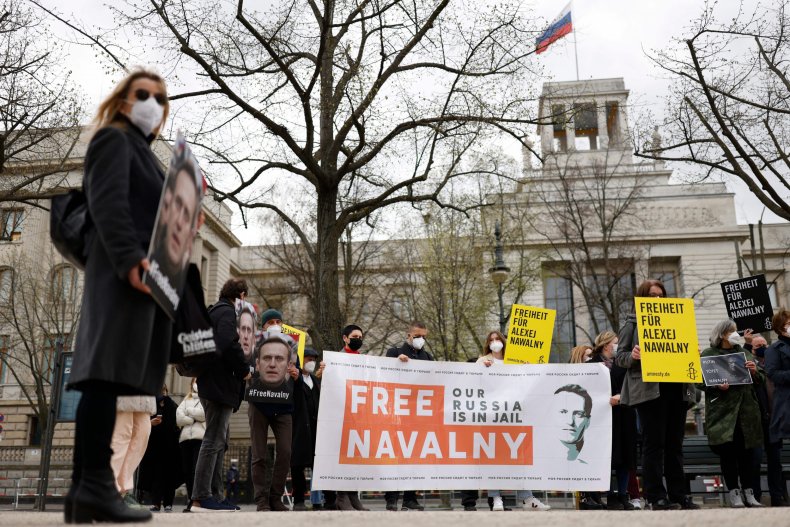 Other associates told the news outlet that the latest developments mark a less certain future, and supporters are now working to ensure their safety as a top priority.
"Frankly, I have to be honest, we don't have a plan for the future, but it's clear it's the end of an era," Diana Rudkova, the former head of Team Navalny in Tambov, told The Moscow Times.
"Right now we are doing everything to guarantee the safety of our former staff. We are ending internet contracts, electricity bills, anything that could tie us to the Navalny movement," she added.
The latest moves come as Navalny, a 44-year-old Russian politician and opposition leader, is currently serving a prison sentence for allegedly violating parole on a 2014 embezzlement conviction. The fierce Putin critic was arrested and convicted after he returned to the country following treatment in Germany for a near-fatal poisoning—which he and the international community have since blamed on the Russian president.
Navalny's allies have increasingly been the target of scrutiny and prosecution from Russian authorities. On Thursday, former Navalny coordinator Andrey Borovikov was sentenced to two and half years in prison for sharing a clip of a German music video on social media.
Then, on Friday, a lawyer representing Navalny's network was detained by authorities on criminal charges for allegedly sharing investigative details, The Moscow Times reported.
Violetta Grudina, a former Navalny aide who was taken in for police questioning last summer after she protested alone in support of the activist, told The Moscow Times on Wednesday that Russian authorities are increasingly cracking down on any opposition in the country.
"They are destroying any channel of dialogue with society," Grudina said. "But we aren't afraid. I am only more motivated and angry."
Published at Fri, 30 Apr 2021 15:09:38 +0000
Attribution – For more Information here is the Article Post Source: https://www.newsweek.com/russia-blacklists-alexei-navalnys-network-terror-organization-cutting-off-bank-accounts-1587833