Home > News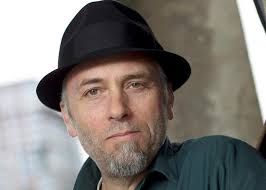 06/03/2022
By TERRY CURRIER // Kelly Joe Phelps passed on May 31 at his home in Iowa. Terry Currier of Music Millennium managed him for a time. He recorded for Terry's Burnside label. 
It was 1993 and I had been encouraged to go see a new talent play by several friends. His name was Kelly Joe Phelps, an acoustic blues guitar player. The noisy club he was playing at in Vancouver served drinks and dinner. I watched this solo performer perform as loud conversations and clinking of glasses filled the air. Usually, this type of environment would make me want to leave but the mesmerizing playing captivated me.
Over the coming months I went to see him multiple times. Over the years of 93' and 94", Kelly joe played over 800 times…. breakfast places on Hawthorne, Mexican restaurants on Vaughan and yes, this noisy place in the Academy in Vancouver.
My record label was starting to more focus on the blues, much because I was very involved with the Cascade Blues Association and was seeing as much of local and national talent I could while keeping up with all the other genres I loved.
A recent success on the label had been by a local band called Back Porch Blues but they broke up as a band while having many dates booked around the country from the many phone calls member Jeffrey Dawkins made from cold calls and the recent 5-page expose in Living Blues magazine on the band. I had this idea that lead singer Sheila Wilcoxson could still perform these dates with the assistance of Kelly Joe on guitar. And at the same time, people across the country would get to see him play and then I would make a record with him. Things did not gel with him and Sheila. I decided not to wait and took him into the studio.
This would become the first record I produced. We booked time at Dead Aunt Thelma's Studio with engineer Mike Moore. We set up things at 9am, started recording at 9:30 and broke for lunch at noon. We had also finished the album as Kelly Joe, with those 800 live dates under his belt, nailed all but one track on the first take. We came back from lunch and mixed it and were done. The album had Kelly Joe playing lap style acoustic and a contraption called a stomp box, which was just an empty wood wine box.
Kelly Joe became the one and only artist I ever asked to manage. I was a believer in his talents and wanted to help his career go forward. July 5th 1994 was release date for his debut album "Lead Me On". We sent 1500 promotional copies out to radio, retail and press. We started getting community radio stations and NPR stations playing it. Bill McNally, who worked with me at the label and I were getting many positive phone calls about the record and an NPR station in Philadelphia wanted to have him come play their festival with another new artist on the bill, Keb Mo. KCRW in Los Angeles called and wanted him live on air. And everyone was fascinated with the stomp box which seemed to be a regular question in any interview he did.
I set him up with a gig at the American Music Hall in San Francisco opening for former Byrd member Roger McGuinn. Two booking agents were invited, Rosebud Agency who worked with artists like Robert Cray, Los Lobos and the likes and Mongrel, who worked with artists such as Dave Alvin and Alejandro Escovedo. When it was all said and done, Mongrel became the booking agency for Kelly Joe.
Mongrel was hungry, a small agency with a real love for the music and the artist they worked with. They managed to get him a 3-week tour with BB King. At the same time, larger labels started knocking at the door. I met with American Records, home of bands like the Black Crowes along with an entertainment lawyer Bill had suggested. Kelly wanted to be on this label though as a manager I felt "being a bigger fish in a small pond" with labels like Rounder and Ryko would be a better career direction for him than "being a small fish in a big pond" with a major label. Plus being in the industry, I had some inside to American by chance having financial issues. He signed with American and they sent him a 4-track recorder and told him to record the album in his home.
Summer of 1995, Kelly Joe moved on to another manager due to recommendations of that attorney, stating "Having a manager that owns his own record label is a conflict of interest." The lawyer became his manager. In early 1996, American filed fpr bankruptcy after repeated calls from Kelly Joe to see what was going on with what he recorded. They eventually stated they were releasing him from his contract and asked "If I had recommendations of labels to talk to."
Pretty much went back to my short list and Ryko became is next home.
The next album would find him stepping away from the lap-slide playing and the stomp box. He also stopped wearing his trademark hat. He had mentioned that the "Burnside blues artist roster seemed to all wear hats." He was definitely looking for a new identity. Over the years he drifted to different styles and for a spell even used a band on stage, stretching into experimental playing., being a tunesmith troubadour and just a great fingerstyle player.
His talent showed through with each evolution, just as it did before he started this career, being a jazz bass player. In all, Kelly Joe delivered 11 very good to exceptional recordings for various labels including 6 for Ryko, and additional albums for labels like rounder and Black Hen.
His talents were admired by many musicians as well as his legions of fans around the world. One day 6 years ago he hit the wall and said he was tiering of touring, driving long miles to get to areas of the country to play solo shows. He had had a recent scare where his hand was not functioning also, which would concern any guitarist but that issue subsided. Without playing there was not going to be much income and he began to sell some of the 20 some guitars he had collected along the way and his record collection. I visited him a few times during these times but answers to emails in the following years became absent.
Kelly Joe had truly moved on from music, something that had been the driving force in his life. Many of those around him kept hoping he would come back to it but on May 31st, he passed away at home in Iowa. We will always have the music to remember him by. "Lead Me On" will always have a permanent place in my heart and mind.