Oakland A's Pitcher Jesus Luzardo Breaks Finger While Playing a Video Game
Oakland A's pitcher Jesus Luzardo kicked back with a video game prior to his start on Saturday, and the lefty broke the pinkie finger on his pitching hand while playing. Though it felt sore, he still went out and pitched three innings of an 8-4 loss to the Baltimore Orioles.
Luzardo was playing a video game at a desk, and his left pinkie smashed hard against the desk. His finger felt a little sore, so he let the club know about it. Luzardo was monitored as he threw in the cage, and the team gave him the green light for his scheduled start.
"Before the game he was playing a video game and accidentally bumped his hand on the desk as he was playing the game," A's coach Bob Melvin said. "He came in, was a little bit sore, training staff checked him out. We threw him in the cage before he went out there, watched him warm up. He was comfortable pitching, the training staff was comfortable with him pitching. After the game, we got an X-ray and there was a hairline [fracture] in the pinkie finger."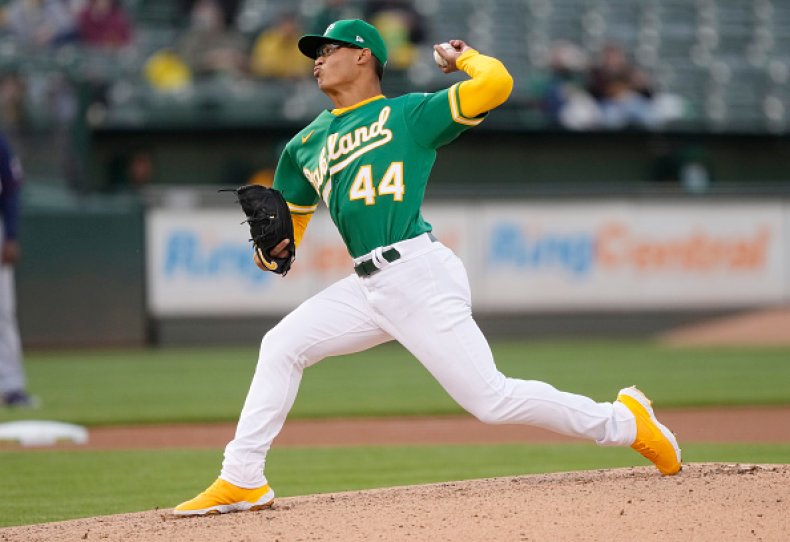 Luzardo took the loss on Saturday, giving up six runs on five hits. He fell to 1-3 on the season with a 5.79 earned-run average (ERA) in his six starts.
Melvin didn't give a timetable on Luzardo's return, nor did he indicate whether his pitcher would wear a splint.
"It just depends on how it heals and how it responds," Melvin said Sunday. "As you would expect, it was a little bit worse today, a little bit puffier today, but really have no idea on a timetable yet."
The A's are leading the American League West with a 17-12 record, thanks to a 13-game win streak in April before losing five of their last eight games. The streaky A's not only lose Luzardo for an unexpected amount of time, they also placed right-handed pitcher J.B. Wendelken on the injury list after he strained an oblique muscle.
The team has called up lefty Adam Kolarek from their alternate training site to replace Luzardo, and they also called up Jordan Weems to temporarily replace Wendelken.
The A's hold a one-game lead over the Seattle Mariners and are one and a half games ahead of the Houston Astros. The A's continue their home stand Monday with four games against the Toronto Blue Jays and then three more against the Tampa Bay Rays before hitting the road to play Boston and Minnesota.
Published at Sun, 02 May 2021 23:35:26 +0000
Attribution – For more Information here is the Article Post Source: https://www.newsweek.com/oakland-s-pitcher-jesus-luzardo-breaks-finger-while-playing-video-game-1588173