Home > Home – Featured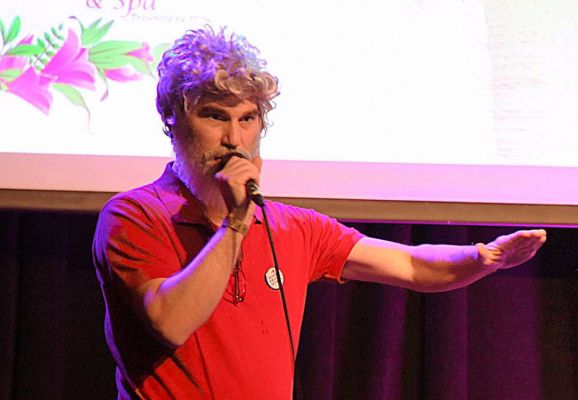 06/19/2022
By MATT CARTER // Performance artist known for work with Eric Andre/Tim and Eric opened for sold-out Neil Hamburger date
The performance art of JP Hasson goes by many names, and if you're unfamiliar, his songs are like a focus group for the imaginary content he's dreamed up. With theme songs that explain the entire plot of a movie in mere minutes, delivered in a smooth corporate persona, JP Inc. may appeal to you more as an investor or consumer. But for fans who have followed his career, Thursday's sold-out performance at Mississippi Studios – where he opened for comedian Neil Hamburger – offered something different. It was even a departure from the years Hasson spent cutting his teeth under the name Pleaseeasaur as a shadow puppeteer.  
As the fictitious corporation, JP Inc. has its fingers in many pies, and in the turbulent word we live in, has now turned to the wellness industry as its next endeavor. It's proof that as global economics shift, so too must the aim of Hasson's comedy to build the JP Inc. brand. Debuting a new state-of-the-art 'relaxation system,' the comedian used the ongoing joke of his own tranquil new age music to transform the venue into a futuristic spa treatment.
Released in early 2021, "Massage & Spa" is JP Inc.'s most recent album, and with its accompanying YouTube videos, it dropped very minimal clues as to what his next live show would consist of. As a visual artist, JP Inc.'s videos may be the kind of polished comedic weirdness the internet produces on a regular basis. But on stage, Hasson's presence and posturing give his videos the full effect, where the absurdity of commercialism is the tangy packet of flavoring he adds on top.
It's precisely why Hasson's transition from a C.E.O. into a wellness expert isn't a stretch –  it's simply a pivot for the comedian to trade one pitchman for another while faux-advertising with hilarious results. Hasson's call for audience participation turned the sold-out crowd giddy with anticipation, and in pinpointing muscular irritation through mind projections, gave participants a once-in-a-lifetime 'centering' experience.
But if you think that the tranquil mood persisted into headliner Neil Hamburger – whose edgy 'anti-comedy' style dragged arena rock stars of yore – you have another thing coming. Even so, if you came out that night expecting a relaxing retreat, thanks to JP Inc., you were at least half right.