Home > Jazz / Blues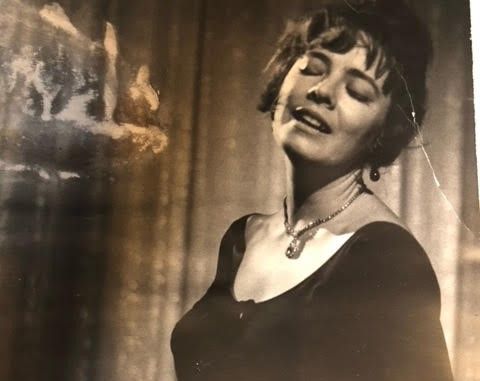 04/22/2022
By PAULA M. WALKER // To Oregon classical music enthusiasts, Catherine Noll was the second violinist in the Oregon Symphony for 25 years.  But in her 20s, she sang jazz in San Francisco and New York nightclubs, and later, in Portland. 
Greenwich Village.  1957.  At the newest nightclub in the Village, an attractive young woman dressed in black steps up to the microphone.  In a dark room, the overhead spotlight rivets the audience's attention on the singer. 
Her repertoire is not the usual standards sung in smoky Village bars.  Yet it caught the attention of the Village Voice, which gushed about her singing and her beauty.
"Some very nice-looking people are having a ball listening to a very beautiful girl sing the sort of songs everyone wishes some beautiful girl would sing at parties.  Her name is Catherine Lawrence.  She is from Oregon.  She is 22.  She is lovely." (The Village Voice Feb. 27, 1957)
Catherine Lawrence became Catherine Noll.  To Oregon classical music enthusiasts, she was the second violinist in the Oregon Symphony for 25 years.  But in her 20s, she sang jazz in San Francisco and New York nightclubs, and later, in Portland. 
Catherine distinguished herself by singing unusual, little-known songs.  As the Village Voice put it, "she has a large supply of songs that are never sung enough: "Inch Worm," "Come by Sunday," "Lilac Wine," "Mountain Greenery," "Smoking my Sad Cigarettes."  Her voice is as mellow and warm as her smile or as cool and sad as her frown."
Catherine respected the music.  She always wore black, so that her attire did not detract from the song.
"A lot of entertainers I knew would gussy themselves up, so that all you would notice when they came on stage was them, with their glitter," she said. "I thought, 'I don't want to be that way.'  What I'm trying to do is bring some life to a song.  And I can do that better if I'm as unnoticeable as possible."
Catherine was born in Baker City and moved to Portland when she was 11.  She left for San Francisco when she was 18 because "I wanted to live!" she exclaimed.  Committed to her classical musical education, she went to San Francisco to study with the concertmaster for the San Francisco symphony.
One of her fellow boarders was jazz pianist Forest Brothe.  He heard her singing. "I don't know if it was in the shower or what," she said. 
Brothe asked her to come sing with him.  "That's where I gained some confidence," said Catherine.  "I could carry a tune.  I could read music.  It never occurred to me to do anything with it until Forest."
They got a gig at the Purple Onion, which she described as "kind of a fancy-schmancy place."  Among her many adventures, she met Maya Angelou who worked at the Onion.
"She was a kick," said Catherine. "Very tall and very slim everywhere except her bottom. She was so proud of her bottom, she would design dances to show it off. She sang mostly Caribbean-type music and was barefoot." 
In 1956 she moved to New York "to save an unsave-able marriage."
Her husband introduced her to the man who eventually became her second husband, George Karlson.  George was born in Manhattan and showed Catherine around New York.
She first worked at Upstairs at the Duplex on what's been called the most iconic block in Greenwich Village. When the owner decided to close the Upstairs, Catherine and George offered to manage a nearby club, the Mezzanine at the Complex.  In those days nightclubs respected the artists and did not serve drinks when they were performing, only during the breaks.
When I came on to sing, no drinks were served. No talking was allowed." Catherine said. "That was how everybody was in New York.  When you went to hear somebody, you heard them.  If somebody was making noise, the audience would cuss them out."
Pianist Jack English was Catherine's favorite accompanist.  As the Village Voice put it, "he plays in a very enlightened style that helps Cathy to get across the song in the way it was entitled to be sung."
When English left, Catherine auditioned many other pianists, including Mose Allison.  She finally hired George Cory, whose later claim to fame was composing the music for  "I Left My Heart in San Francisco." 
"His playing was a little too florid for my taste," Catherine said. "But I thought, 'we can trim this down.' "
Noll also sang at the Le Ruban Bleu, owned by Cy Walters, the father of broadcast journalist Barbara Walters.  Catherine said it was a popular place frequented by gangsters.
"Everyone was just fine with it because it was money, money, money," she said.  "Not much fun to sing for. One of their favorite songs was Love for Sale."
On the 1950s New York jazz scene, it was not uncommon to rub elbows with the performers.  That's how Catherine befriended Charlie Mingus. 
"He was friendly with everybody," she said. "Most of the musicians were.  You'd go out and hear them and before you knew it, they'd be sitting at your table."
What about Mingus' reputation as an ill-tempered, intimidating musician?  Catherine said he wasn't always nice to work with because he was demanding and fussy.
"But he was a very nice person. To me, at least," she said smiling. 
Catherine left New York for Florida, then moved back to Portland in 1962 and spent the next several years raising her three daughters, accepting only occasional singing gigs. 
She focused on her classical music talents, creating a string quartet called Tapestry, which has performed many concerts throughout the years, including the opening of Portland's Lan Su Chinese Garden. 
Before she landed the gig with the Oregon Symphony in 1974, Catherine began singing at the Hilton International Club in the early '70s and continued to work there after she joined the symphony as a violinist.
"I only ever wanted to play chamber music on violin," she said. "Singing was a job for fun."  
Her singing caught the ear of bandleader/musician Billy Starkel, who expanded her role at the Hilton.  "He really liked me, so he had me sing with the band, as well as stroll, and pretty soon, I was a big part of the whole endeavor," Catherine said. 
When Starkel died, Catherine and her third husband Nic Noll took over the band.  Nic was a popular Portland musician.
"He was a gypsy," Catherine said.  "He played great violin and fun tunes and taught me how to be more jazzy."
The Cathy Noll Jazz Quintet performed at private parties, Wilf's and other local venues.  Even when she joined the symphony, she was still singing.  Sometimes the string quartet would program a song and accompany her. 
Teaching was a major part of her life in Portland, although she was initially hesitant. 
"I wasn't going to teach.  No, no.  I wasn't a teacher at all," she said.
When the mother of two sons wouldn't take "No" for an answer, she reluctantly agreed.  Catherine learned that she liked it more than she thought she would. 
She taught hundreds of students over 60 years.
Her first two students were Bill and Christopher Schumann.  Although they began on violin, they went into opera.  Bill tutored Broadway star Nathan Lane.
Catherine was a fun-loving gal.  An experienced host, she once threw a party in San Francisco that lasted three days. 
"I hadn't planned for that, but that's what happened," she said.  "You just drink and play music and dance until somebody's tired, so they just fall asleep. People were sleeping on the floor everywhere.  Then they do the same thing a second night."
Her favorite party was in Portland. She and George lived in a 14-room house in Lair Hill and invited everyone they knew. Her husband estimated that about 300 people attended the party.
"All of us were good cooks. I think we had two turkeys.  Every room was taken with people setting up a little space to eat," said Catherine. "We did a Conga line all through the house.  People who didn't even know they could dance danced."
Sadly, Catherine passed away in December at the age of 90. She emphasized that despite her impressive musical career, her three daughters and her string quartet were the high point of her life. Her San Francisco and New York experiences are great memories, but she didn't regret choosing classical over jazz.
"For the past 50 years my family and Tapestry have fed my passions,"   she said.
Paula M. Walker was a DJ at KMHD, the Portland jazz station for 20 years where she hosted Cinejazz, a program that featured jazz in film. She can be reached at [email protected]