Home > Rock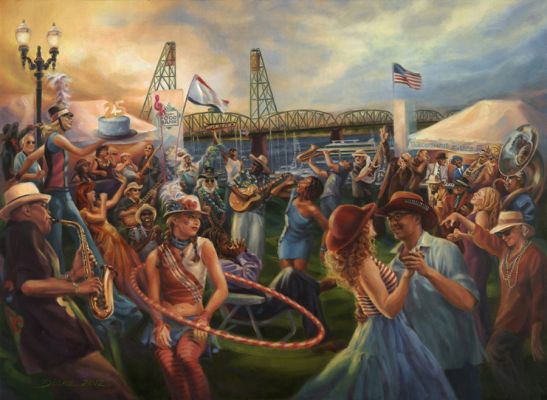 Painting by Diane Russell
11/15/2022
By TOM D'ANTONI // For decades, Clay Fuller and Peter Dammann ran the Waterfront Blues Festival. Clay died this week. Watch a video from July 12, 2012. A famous Blues Festival tale.
Clay Fuller was one of the good guys in the Portland music Scene. He was responsible, along with Peter Dammann, his partner in crime, for years of great music. 
They were also responsible for giving OMN our famous "Comfy Booth" in the Louisiana Pavilion.
Here he is in the OMN booth, telling a famous Blues Festival tale. The day a member of another band nearly destroyed a Hammond B-3 organ which had been carefully prepared for Booker T.
He retired a few years ago and his friendly smile and kind ways have been missed. Now even more in death.
Waterfront Blues Festival Producer Clay Fuller talks to Oregon Music News about how Booker T nearly had to play without an organ from Oregon Muisc News on Vimeo.